Backdrop
The International Day of Sport for Development and Peace is an opportunity to recognize the potential of sport to contribute to the achievement of the Millennium Development Goals. Sport can foster peace and contribute to an atmosphere of tolerance and understanding at the local, national and international levels.
Based on its intrinsic values such as teamwork, fairness, discipline and respect for the opponent, sport can be harnessed in the advancement of solidarity, social cohesion and peaceful coexistence. Therefore, States, the United Nations system, the United Nations Office on Sport for Development and Peace, and all relevant stakeholders are invited to cooperate, observe and raise awareness of the International Day of Sport for Development and Peace.
Mr. Ahmad Alhendawi made history at the United Nations when he was appointed the first ever Secretary-General's Envoy on Youth.
His job as Youth Envoy is to create platforms for youth participation at the UN as well as connect the United Nations to inspiring work of youth around the world. His office works to build new ideal and partnerships for the UN in the field of youth development and he acts as a harmonizer for the UN efforts on youth. He is an advocate for the implementation of policies and frameworks that positively affect the lives of youth around the world.
In course of this Stroll the United Nations Youth Envoy and I discussed the Envoy's early years in Jordan and his journey to the United Nations; the #YouthNow Campaign spearheaded by his office; Sports and the English Premier League, and much more. Here's my stroll with Mr Alhendawi; I hope you enjoy it.
Ebenezar: Good day sir, thank you for coming on the Stroll. I'd like us to start from your early life. What was growing up like for you, and how did you end up at the United Nations?
Ahmad: I was born in Jordan and that's where I went to school. I spent much of my spare time growing up, playing basketball.
I have always been very interested in public work and youth work. I started working with youth at a young age including joining Youth Centres and youth committees. I also volunteered with many community initiatives.
At university, I studied Computer Information Systems. My first social job was with Save the Children focusing on helping Iraqi refugees. After that, I worked with the UNFPA Iraq office on building the national youth strategy for Iraq. Then I worked with the Arab League in Cairo as youth policy advisor before joining the United Nations.
The Secretary General of the United Nations was the first in history to appoint an Envoy on Youth. The Office was created to help ensure that youth voices are adequately represented within the work of the United Nations and that the United Nations is closely connected to activities of youth around the world advocating for development.
Ebenezar: Wow, that's really cool. Just like you said; you're the first ever Secretary General's Envoy on Youth and your job description in one sentence is, "…to bring the voices of Youths to the UN System." Why do you think it's important for Youths to be part of the UN?
Ahmad: This year we celebrate the 70th Anniversary of the United Nations, and the United Nations has come a long way in providing a global platform for coordination, peace, security, development, and human rights.
The first line in the UN Charter says, "We the peoples."
Currently more than half of the world's population is under 30. Young people are driving innovation and development. Youth are very well connected and active in civil-society. It is extremely important for the United Nations to engage young people as their ideas and talents are central to advancing the global development agenda.
The Youth Envoy's job is to help the United Nations open up to young people and for this energy to feed into the United Nations system, but also for the United Nations to help more young people; by offering more programs and more initiatives; and finally to open up more avenues for youth participation. Supporting and empowering young people around the world is crucial; today young people are troubled with unemployment and lack of opportunities for participation, and I think the UN has a significant advantage in promoting youth rights.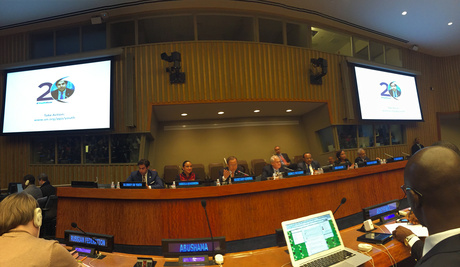 (Secretary General Ban Ki-Moon launching the #YouthNow Campaign, spearheaded by the Office of the UN Youth Envoy, in Commemoration of World Programme of Action for Youth)
Ebenezar: Tell me a bit about the #YouthNow Campaign, it's really viral on social media; what is it really about?
Ahmad: This year the United Nations commemorates the 20th Anniversary on the World Programme on Action for Youth. Twenty years ago member States agreed on this very important framework document, the World Programme on Action for Youth, which outlines 15 areas including education, health and employment that need to be supported to enable youth development.
After 20 years we have seen that this document is still relevant and important. We have come a long way in supporting young people, but we are also mindful that despite some progress, young people today, more than ever, are facing some serious issues/challenges particularly in areas related to unemployment and education.
To commemorate the 20th Anniversary of the World Programme on Action for Youth, the United Nations launched an online campaign the hashtag Youth Now (#YouthNow) which engages a global community in conversations around the importance of youth development. The hashtag and campaign collect global youth voices demanding for more participation opportunities, for jobs and to be taken seriously in the decision making processes. We are talking about how youth can be part of the solution and not part of the problem. This is an important campaign as it will culminate with a High-Level Event of the General Assembly on May 29th, where we bring youth and Member States together to commemorate the Anniversary of the World Programme on Action for Youth and to discuss important next steps to achieve youth development.
We invite you to join the campaign and share your ideas with us. We want to hear from more youth around the world. Plan commemorative events, host a social media conversation, send us your pictures and stories. Don't forget to use the hashtag #YouthNow in your posts.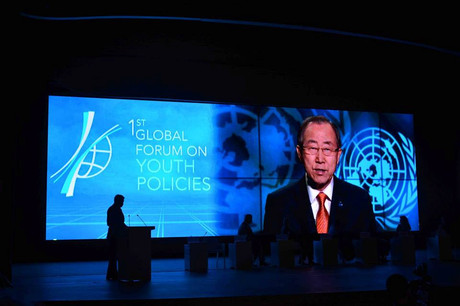 (Secretary General Ban Ki-Moon addressing delegates at the Global Forum on Youth Policies 2014)
Ebenezar: That's just awesome! Also last year in October you organized the Youth Policy Forum which discussed ways youth policies can be implemented around the world. So have we made any progress from that conversation?
Ahmad: The Forum was organized in partnership with several key stakeholders. At the global level, there was no convener that brings together Ministers responsible for youth together with youth organizations, foundations, and the academic world. The Youth Policy Forum hosted in Baku, Azerbaijan, brought together Ministers and government officials responsible for the youth from 115 countries and participants from over 165 countries. It proved to be the largest gathering of Ministers and government officials responsible for the youth from 1998!
I think that's what made it a unique platform — all these actors do not often have opportunity to have in depth 3-day debates. We are committed to keep bringing this process forward and to convene a second forum hopefully next year.
Ebenezar: We're surely looking forward to the next one. On April 6th the world will observe International Day of Sports for Development and Peace, and we know how much youth are involved in one sport or the other around the world. As Youth Envoy, what's your message to these youths as regards using Sports as a tool for development?
Ahmad: About 600 million youth today, are living in regions impacted by conflict and insecurity. I firmly believe that youth can play a very significant role in advocating for peace and development. The question is, how we can make young people a part of the solution and promote youth as peace builders.
I disagree with one idea that youth are trouble makers. I believe that youth are our biggest assets for peace. But We need to invest into having young people feel the ownership of this process, namely in reconciliation and countering violence extremism.
In many situations, sports and cultural engagement becomes a tool for constructive engagement. I recently went on an official mission to the Occupied Palestinian Territories and had the opportunity of playing soccer and basketball with Palestinian youth in Gaza. It was heart-warming to see how youth that are so heavily impacted by on-going conflict, turn to sports as an outlet.

(The UN Youth Envoy playing soccer with young boys and girls in Gaza during his Official Mission in the Occupied Palestinian Territories)
Ahmad: The United Nations also promotes sports as a tool for reconciliation. We realize that through playing together, we share a common humanity. Through finding a neutral common ground — like sports — we are able to, for a fraction of time, set aside our differences and unite around a love for the game.
Sport also helps build sense of belonging and community among young people who desperately need safe spaces.
Ebenezar: You talked about playing Basketball back in high school in Jordan, and I'd like to know, do you still do any sports these days? What do you do for fun?
Ahmad: I still play sports, actually, I ride my bike to work every day and play basketball! I think it's important to stay active. In addition to playing sports, I love watching sports and am a big soccer fan. In my spare time, I also like to read.
Ebenezar: Wow, that's so cool! Do you support any club? Maybe like Arsenal, or Chelsea, or…?
Ahmad: Well, I do like the Premier league; in fact I watch it almost every Saturday morning! Also I follow the Spanish league.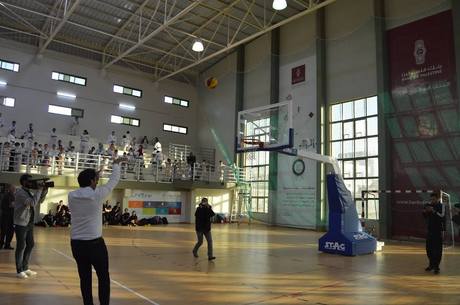 (Free Throw: The UN Youth Envoy shoots for the basket)
Ebenezar: Okay, so International Youth Day will come up on August 12th. What will this year's theme be?
Ahmad: The International Youth Day will focus on Civic Engagement this year. We invite youth globally to participate.
Ebenezar: Finally before we go, one major issue that comes to mind when we talk about youths is unemployment just like you mentioned earlier. The figures are really high and scary, and every year graduates emerge from the University to add to this number — In Nigeria alone, we have an average of 47,000 graduates annually. What's your take on how we can solve this problem once and for all?
Ahmad: Globally, 600 million jobs will need to be created over the next decade. In India alone, each month, nearly 1 million people enter the labor market.
The youth unemployment problem cannot be solved without public-private partnerships. We need to prioritize investments in youth and empower young entrepreneurship and innovation, in addition to working with governments and the private sector for job creation.
We must acknowledge that youth are not only seeking jobs, but are also creating jobs. The global community can support this by providing access to more finance and also revisiting the educational system to encourage more critical and entrepreneurial thinking.
Youth unemployment cannot be solved without having a policy dialogue. We need the policy conversation to be coupled with concrete programmes on a country level that support growth and jobs creation.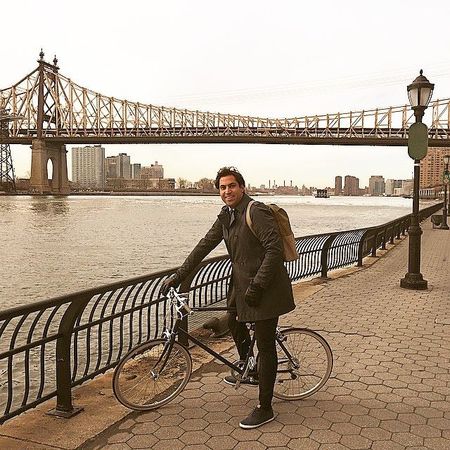 (The UN Youth Envoy rides his bicycle every morning to his Office)
Ebenezar: What makes you busy?
Ahmad: I want to make sure that I do justice to this current role dedicating everything to advance youth rights and priorities; this is what keeps me busy.
Ebenezar: Any final words for youths? Any thing you'll like to say to young people around the world?
Ahmad: My message is that, this year 2015 is the year for global action. 2015 is the year the global community will shape the new sustainable development agenda. We need young people to be involved in the new development agenda that will be adopted in September if we want it to be successful.
The Secretary General always says, all the years are important, but this year particularly we need young people to be involved in order to make the future they want a reality. That's my message to youth.
I mentioned above the #YouthNow campaign. You can learn more about it at www.un.org/pga/youth
Ebenezar: Okay, thank you very much once again for your time sir. It was great having this conversation with you.
Ahmad: Thank you so much, Ebenezar, it was a pleasure talking to you.